What Is Sun Basket And Is It Worth It?

Sun Basket is a healthy meal delivery service. In fact, they have the reputation of being one of the healthiest and most popular meal delivery services out there. They deliver fresh, organic and sustainable ingredients, including seasonal recipes, which are developed and approved by dietitians.
Sun Basket basically provides meals and ingredients that you can easily cook yourself at home. These include vegetarian, vegan, pescatarian, paleo, gluten-free, diabetes-friendly, carb-conscious and much more! Of course, there's more to Sun Basket, yet I'm not going to overwhelm you with a whole essay on it.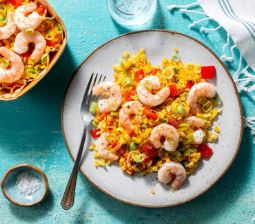 I've already done all the work of researching Sun Basket and checking out the reviews, though you can too if you'd like. Therefore, I'm going to save you some time and give you the bullet points of what I found, including the good and the bad. Here are the pros & cons.
Pros:
Sun Basket has a great variety of meal choices and dishes every week.

The meals are healthy and balanced.

The meals are very filling.

They have a very detailed nutritional breakdown of products.

They have clear ingredients descriptions.

They have clear instructions.

They're meals are easy to make.

They're very specific and detailed.

Their website is easy to use.

You can customize your options.

Their options are structured to help eliminate decision fatigue.

The food is packaged in a very organized and insulated manner.

The food is packaged in Eco-friendly packaging.

They have everything for every meal, be it breakfast, lunch, dinner, snacks, etc.

Their meals are overseen by registered dietitians.

The food is all organic.

The food is of course delicious.

They have antibiotic-free protein.

Their seafood is wild-caught.

If you have an allergy, they'll omit that ingredient.

You don't have to subscribe to be able to see their menu.

You will learn new and amazing ways of cooking.
Cons:
There may be a few dishes in Sun Basket that you may not find to be your favorite, although they do have a lot of great options.

If you don't like variety, then it may not be for you.

If you don't like to cook, then it may not be for you.

Your meals and ingredients are delivered weekly, although that may be a good thing for you.
Reasons why Sun Basket is better than going to the grocery store:
Sun Basket is focused on a healthier lifestyle than what you may find at the grocery store.

They're also focused on a more fit lifestyle than what you may get at a grocery store.

You can save almost twice as much as what you would normally spend at a grocery store.

You save a lot of time because it's delivered to you.

You also save a lot of time because most meals are designed to only take about 20 minutes to cook.

They're very descriptive and informative when it comes to breaking down things such as protein, carb, fat, nutrition, sodium, fiber, calories, and their appropriate amounts, as well as where they come from.

They provide you recipes and tips.
This is what I've got so far, yet don't take my word for it! You can go to Sun Basket's page and check out everything they've got to offer. You might find more pros or maybe even some cons! By the way, last time I checked, they had a $35 off deal, plus 4 FREE gifts. So you might want to hurry to see if that's still available too. Enjoy!



---
Other Great Products And Services
Top 11 Food Categories & Discounts For You →
Top 6 Supplement Categories & Discounts For You →
Top 7 Fitness Categories & Discounts For You →
Top 6 Book Categories & Discounts For You →
Top 11 Online Education Categories & Discounts For You →
Top 6 Online Business & Jobs Categories For You →
---